Spa Services
Texas Hill Country Spa Services at Palo Alto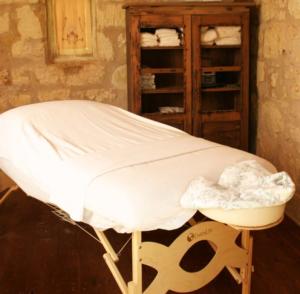 Are you tired of trying to get a relaxing therapy treatment in a noisy and bustling day spa/ salon environment? So are we! Now, you may enjoy Texas Hill Country Spa Services at Palo Alto, privately and conveniently, without ever leaving the comfort of the farm. Spa rooms are designed and equipped only for therapy and available only to you while a guest at Palo Alto Creek Farm. Call ahead to European Day Spa at 830-997-5267 to make an appointment for a treatment at the farm during your stay. The therapists at European Day Spa maintain a busy schedule, so call soon to have the best chance to schedule an appointment at the time of your choice. European Day Spa will be happy to handle the details for you.
All charges for Texas Hill Country Spa services will be billed through European Day Spa to be paid at time of service. All therapy services are provided by licensed professional massage therapists and estheticians that are trained in various types of massage techniques.
Explore our Texas Hill Country Spa Services
Total Surrender Massage Therapy
Put your tired, stressed out body into our gentle healing hands. Your spirit and your body will surrender to peaceful balance. Your tension will melt away. Available in 30-minute, one-hour and two-hour sessions.
Forever Young Facial
A basic and deep cleansing refreshes your face and removes contaminants from your skin. Your face is then gently exfoliated, and a masque is applied to rehydrate, repair and relax. Finally a restorative massage with moisturizing lotion and sunblock will have you looking your best. A one-hour treatment.
Sole Therapy
Your feet are first relaxed and softened in a warm bubbling footbath. Then a salt scrub exfoliates and removes rough spots from your heels and soles. An organic mineral mud is applied to your feet and soothing warm booties further relax and detoxify your overworked feet. Lastly, a glorious foot massage with a tingly peppermint foot creme will have you feeling as if you're taking your first steps all over again. A 30 minute treatment.
Packages
Self Renewal: One hour full body massage, Forever Young Facial and Sole Therapy (one person, 3 hours).
Couple's Retreat: Two one-hour massages, two Forever Young Facials and two Sole Therapies (2 persons, 3 hours each at the same time).
Guest Comments
"I couldn't have asked for a more perfect birthday weekend. We've been coming to Fredericksburg twice a year for 3 years and stayed in different lodgings each time. This was BY FAR the best place we've chosen. My husband and I were saying this morning that we don't see ourselves ever staying anywhere else. My massage in the loft was divine. Hat's off to the quiche – yummy! Thanks for everything! We will certainly be back." -Guests from McAllen, TX

"We wanted to spend a weekend in the hill country and found Palo Alto Creek Farm online. I wasn't sure what to expect, but this has to be one of the most unique, romantic and relaxing places I have ever stayed. We stayed in The Barn, which was more than enough room for 2 people. It had a fireplace, hot tub, fully stocked kitchen – and even a private room for a masseuse (who was recommended by Palo Alto and arrived shortly after we called her) to give us both amazing massages. We ventured into town a few times to eat, but we really couldn't get enough of the peaceful relaxation at The Barn. A great hill county experience and the perfect gem if you're looking for a relaxing, rustic getaway in Texas." TripAdvisor Reviewer, Dallas, TX

"My husband and I visited Palo Alto Creek Farm to celebrate our anniversary… We were greeted with fresh flowers on the coffee table and gingerbread cookies from the owner's family recipe. They also provided plenty of food for breakfast for two days. In fact, there was so much food variety that we couldn't eat it all… In addition, the log cabin contains a loft above the living room designed for massage & spa treatments. You just have to call the local spa (info provided) & they come to you. " TripAdvisor Reviewer, Austin TX