Area
Fredericksburg TX and Texas Hill Country
The Fredericksburg TX country roads are almost empty of traffic and are ideal for walking, jogging or biking. Near the B&B there are gentle Texas rolling hills for relaxed activity and challenging grades for the more athletic. And, if you just can't stay away from the urban life, it's only five miles to Main Street and all of the Fredericksburg TX shopping, restaurants and cultural events.
Fredericksburg's Main Street
This is the place to shop and eat, and it's only five miles from Palo Alto Creek Farm. There are over 150 antique stores, boutiques, gift shops, bookstores, galleries and other retail shops in town. Dining experiences include pubs, bakeries, cafes, juice bars, sports bars, gourmet restaurants, authentic German food, bistros, Tex-Mex fare and barbecue.
For a taste of "the good old days", step into Dooley's 5-10-25 Cent Store, a truly old-fashioned variety store with atmosphere just like when Grandma and Grandpa were kids.
Experience professional family-friendly live entertainment from the golden era of rock n roll onstage at Rockbox Theater, a 392-seat indoor theater at 109 N Llano, just one block off Main Street. Every weekend their resident cast presents a live music production filled with costumes, choreography, and comedy. The cast of entertainers stays the same, but the show changes every weekend. Rockbox Theater is the only professionally cast live-music rock n roll show in the Texas Hill Country that guarantees family-friendly entertainment.
Fredericksburg TX is known for its festivals and events held throughout the year at Marktplatz, right in the center of town. Oktoberfest, Food and Wine Fest, and the Mesquite Arts Festival to name just a few.
Area Wineries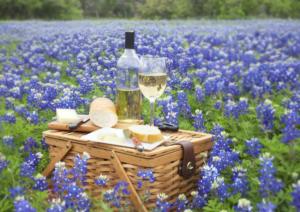 Texas wineries have been growing grapes and producing wine longer than the Californians. Our region, the Hill Country, has just the right environment to grow grapes that produce quality wines. As a result, the Hill Country is home to over half the wineries in the state. We highly recommend taking a winery tour to enjoy the local vintages.  Explore Texas Hill Country Wineries for more info.
Several companies also offer wine shuttle and tour services.  Many pick you up right at the farm!  Visit the following shuttle and tour companies for more info: Hill Country Wine Tours, 290 Wine Shuttle, Cellar Rat Wine Tours, Texas Grapes Wine Tours, Majesty Wine Tours and Fredericksburg Texas Wine Tours.
Museums & Art
The Nimitz National Museum of the Pacific War is dedicated to perpetuating the memory of the Pacific Theater of WWII in order that the sacrifices of those who contributed to our victory may never be forgotten. The museum is located on Main Street and is a must see for visitors to the area.
The Pioneer Museum focuses on the experiences of the early pioneers at the 3.5 acre complex, complete with blacksmith shop and one room school house. The museum was created in 1956 when the Historical Society bought the home, smokehouse and barn of Henry Kammlah and turned it into a small museum. Since then, several major structures have been added to show what has been inherited from the German-Texan settlers who built this place.  The museum has frontage on two streets for easy parking.
Artwork by local painters, jewelry makers, woodworkers, photographers and sculptors is proudly displayed at the Fredericksburg Art Guild, Artisans – a Texas Gallery, and other fine local galleries. Art works by nationally and internationally recognized artists are exhibited by galleries such as The Fredericksburg Art Gallery, Koch Gallery, and InSight Gallery. Each month, First Friday Art Walks offer a leisurely evening of art, live music, and Hill Country wines at Fredericksburg's participating galleries.
Outdoor Activities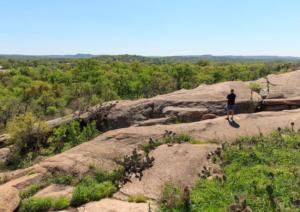 There's so much to do outdoors and it's all close by. You're in just the place to go biking, boating, horseback riding, fishing and hunting. Just south of Fredericksburg TX, Lady Bird Johnson Park has wheelchair accessible trails for hiking and viewing wildlife. For the adventurous, there's a challenging climb at Enchanted Rock State Natural Area. LBJ State and National Historic Parks is 10 miles from Fredericksburg.
Fort Martin Scott Historic Site is the site of the first Federal fort in Texas. Built in 1848, it originally consisted of 21 buildings; it's right at the edge of town and worth the visit. Fort Martin Scott now also includes the Texas Rangers Heritage Center.
Other attractions and events just outside of town include Night in Old Fredericksburg, Trade Days and the Country Peddler Show.
Old Tunnel Wildlife Management Area is the smallest Wildlife Management Area in Texas, containing only 16.1 acres of land. Despite its small size, there is a variety of recreational and wildlife-viewing opportunities. The abandoned railroad tunnel is home to up to three million Brazilian free-tailed bats and 3,000 Cave myotis from April to October. From May to October, visitors come to watch the bats emerge from the tunnel each night, and nightly educational programs provide guests with a better understanding of the life history and ecology of bats.
If golf is your game visit Lady Bird Johnson Golf Course .
This rich region produces a variety of crops, including melons, berries and vegetables and nuts. The Hill Country is especially famous for its peaches. This is a great area to go out and pick your own!
At the Gillespie County Fair Grounds there are horse races in the summer months. Races feature a full slate of quarter horse and thoroughbred races, special races, and trials for the annual Gillespie County Fair Futurity. In addition to live horse racing, the Race Barn, a pari-mutuel simulcast building will be open for greyhound, thoroughbred, and quarter horse races from all over the country. The operation includes an air-conditioned restaurant and bar as well as state of the art simulcast facilities. Racing weekends include dancing, entertainment, a variety of food and drink along with all of the attractions of historic Fredericksburg.
Wildseed Farms, located in the beautiful Texas Hill Country, just seven miles east of Fredericksburg has fields of flowers in bloom for great photographic opportunities. They also feature a live butterfly exhibit, known as The Butterfly Haus, and offer a stroll through The Meadows, their trial plot and research fields.
The town of Luckenbach, Texas, made famous by the song, is just 15 miles down the road.
Guest Comments
"Our stay at The Barn was magical. This place has the perfect combination of rustic charm and naturalistic beauty. Whether you're watching a striking sunrise over the butterfly/hummingbird garden or a peaceful moonrise over the back valley where the deer start to appear at dusk, you will have memories that will last a lifetime.

Located right outside of Fredericksburg, it is perfect due to being close enough to experience the historic downtown life but far enough to experience the serene quiet of the country.

We had the opportunity to meet the owner Carter. She is very sweet and hospitable; made it seem as if we were visiting family away in the country.

My boyfriend and I will be back to visit again one day and to relive this unique experience all over again." -Kimberlee & Jonas